Association of Caribbean States
Wikipedia short information
The Association of Caribbean States (ACS; Spanish: Asociación de Estados del Caribe; French: Association des États de la Caraïbe) is a union of nations centered on the Caribbean Basin. It was formed with the aim of promoting consultation, cooperation, and concerted action among all the countries of the Caribbean. The primary purpose of the ACS is to develop greater trade between the nations, enhance transportation, develop sustainable tourism, and facilitate greater and more effective responses to local natural disasters.
It comprises twenty-five member states and seven associate members. The convention establishing the ACS was signed on July 24, 1994 in Cartagena de Indias, Colombia. The secretariat of the organisation is located in Port of Spain, Trinidad and Tobago.
Link: ACS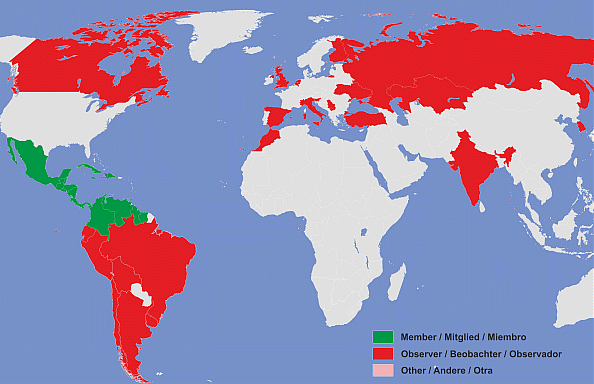 Members, Observers and other participations

Fast selection
List of international
organisations
and treaties
External links change quickly - If you get a link error - Please inform us!