About us
We are a small group of international consultants, working usually for international organisations in project contracts in different countries. Especially in my time working in this job I have had a small collection of vector graphics of the countries I was working, usually for reports and presentations of the results of our project work, relating these results with geographical data.
The effect of these graphics was very impressive, especially in the following points:
The data we were reporting was related to relevant data and geographically referenced,
The data was easier to understand for other persons, especially persons with limited or without knowledge of the country,
The maps could be printed in all sizes, until A1 we have done - with very good results.
The effect of our maps has given the team a good reputation also in other related institutions.
A special case in this was my nearly 2 years in Kabul, where we have done a lot of mapping work, our small group was known as the "guys how have done the maps" - our logotype was in each of them ... and so is still known, like a US-consultant has said me last year - more than 7 years after finishing my job there.
You can see one of the example maps here on the right side.
In the Afghanistan map we have drawn here the following information:
Project financing issues - with the colour code,
All projects in this time running with the basic information surrounding the map,
The status of the project - marked by the colour of the project related bullet, and
The existing electrical network and the planed - including generation, transmission and distribution.
It was a useful tool for the people and our plotter was running in high speed ....
Why not open this collection for a commercial use - we have the maps - you have the data ...
Let´s work together ... we are partners with fair conditions, high quality and good prices ...


Fast selection
This could be
intersting for you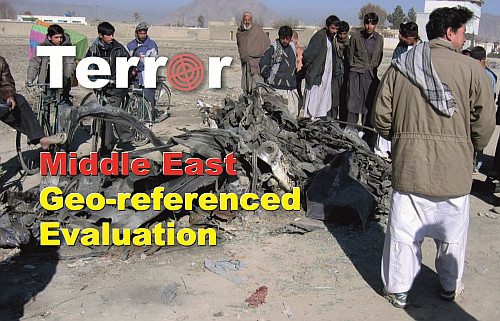 Development of Terrorism
in Middle East
External links change quickly - If you get a link error - Please inform us!