Community of Portuguese Language Countries
Wikipedia short information
The Community of Portuguese Language Countries (Portuguese: Comunidade dos Países de Língua Portuguesa; abbreviated as CPLP), occasionally known in English as the Lusophone Commonwealth, is an intergovernmental organization of Lusophone nations across four continents, where Portuguese is an official language, mostly of former colonies of the Portuguese Empire. The CPLP operates as a privileged multilateral forum for the mutual cooperation of the governments of its members, on both executive and ministerial levels, non-governmental organizations, and the various branches of the CPLP itself.
Link: CPLP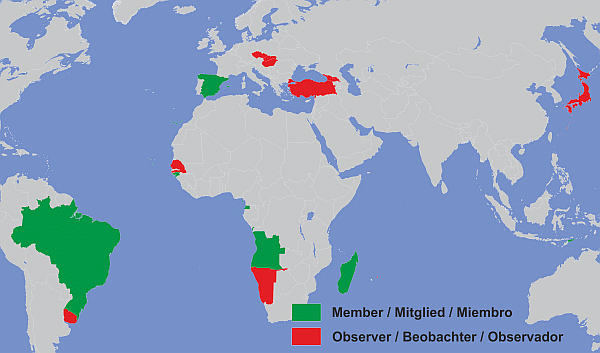 Members, Observers and other participations

Fast selection
List of international
organisations
and treaties
External links change quickly - If you get a link error - Please inform us!