Wikipedia short information
BRICS is an acronym for five leading economies: Brazil, Russia, India, China, and South Africa. The first four were initially grouped as "BRIC" (or "the BRICs") in 2001 by Goldman Sachs economist Jim O'Neill, who coined the term to describe fast-growing economies that would collectively dominate the global economy by 2050; South Africa was added in 2010.
The BRICS have a combined area of 39,746,220 km2 (15,346,100 sq mi) and an estimated total population of about 3.21 billion, or about 26.7% of the world's land surface and 41.5% of the global population. Brazil, Russia, India, and China are among the world's ten largest countries by population, area, and GDP (PPP), and the latter three are widely considered to be current or emerging superpowers. All five states are members of the G20, with a combined nominal GDP of US$28.06 trillion (about 26.6% of the gross world product), a total GDP (PPP) of around US$56.65 trillion (32.5% of global GDP PPP), and an estimated US$4.46 trillion in combined foreign reserves (as of 2018).
Link: BRICS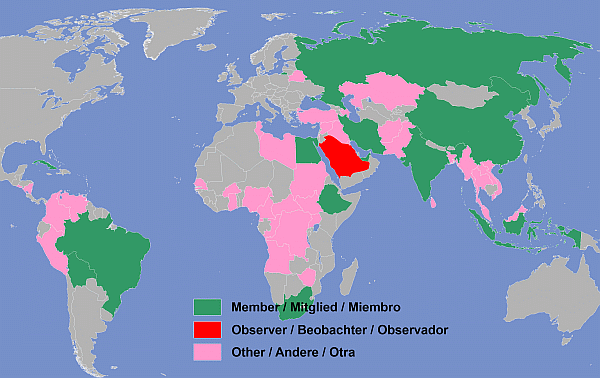 Members, Observers and other participations

Fast selection
List of international
organisations
and treaties
External links change quickly - If you get a link error - Please inform us!