International Cocoa Organization
Wikipedia short information
The International Cocoa Organization (ICCO) is a global organization, composed of both cocoa producing and cocoa consuming countries with a membership. Located in London, ICCO was established in 1973 to put into effect the first International Cocoa Agreement which was negotiated in Geneva at a United Nations International Cocoa Conference. There have since been seven Agreements. The Seventh International Cocoa Agreement was negotiated in Geneva in 2010 and came into force provisionally on 1 October 2012.
On 2 November 2005, the total percentage of exporting countries which had acceded to the Agreement surpassed 80%. Thus, the International Cocoa Agreement, 2001 entered into force definitively for the first time in the 30-year history of the International Cocoa Agreements. ICCO Member countries represent almost 85% of world cocoa production and more than 60% of world cocoa consumption. All Members are represented in the International Cocoa Council, the highest governing body of the ICCO.
Link: International Cocoa Organization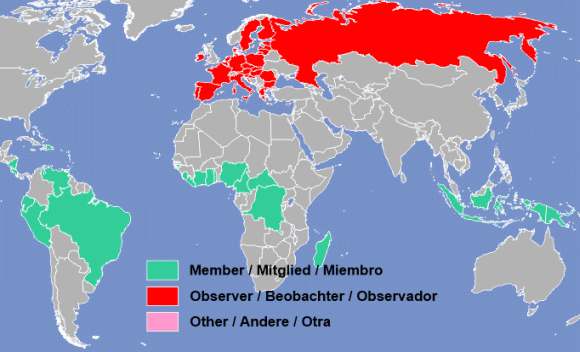 Members, Observers and other participations

Fast selection
List of international
organisations
and treaties
External links change quickly - If you get a link error - Please inform us!