North Atlantic Treaty Organization
Wikipedia short information
The North Atlantic Treaty Organization, also called the North Atlantic Alliance, is an intergovernmental military alliance between several North American and European states based on the North Atlantic Treaty that was signed on 4 April 1949.
NATO constitutes a system of collective defence whereby its member states agree to mutual defence in response to an attack by any external party. Three NATO members (the United States, France and the United Kingdom) are permanent members of the United Nations Security Council with the power to veto and are officially nuclear-weapon states. NATO Headquarters are located in Haren, Brussels, Belgium, while the headquarters of Allied Command Operations is near Mons, Belgium.
Link: NATO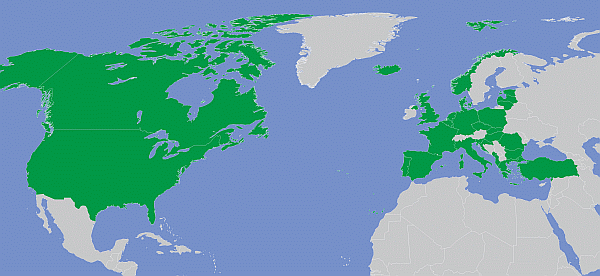 Members, Observers and other participations

Fast selection
List of international
organisations
and treaties
External links change quickly - If you get a link error - Please inform us!