Melanesian Spearhead Group
Wikipedia short information
The Melanesian Spearhead Group (MSG) is an intergovernmental organization, composed of the four Melanesian states of Fiji, Papua New Guinea, Solomon Islands and Vanuatu, and the Kanak and Socialist National Liberation Front of New Caledonia. In June 2015, Indonesia was recognized as an associate member.
It was founded as a political gathering in 1986. On 23 March 2007, members signed the Agreement Establishing the Melanesian Spearhead Group, formalizing the group under international law. It is headquartered in Port Vila, Vanuatu. A secretariat building was constructed by the People's Republic of China and handed over to the MSG in November 2007. The first Director General of the MSG Secretariat was Rima Ravusiro of Papua New Guinea. Since April 2016, Amena Yauvoli of Fiji heads the MSG Secretariat.
Link: MSG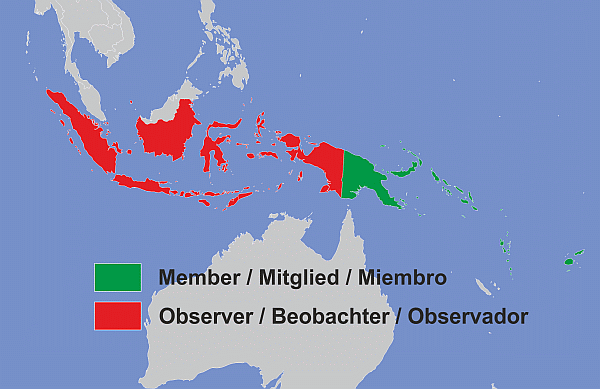 Members, Observers and other participations

Fast selection
List of international
organisations
and treaties
External links change quickly - If you get a link error - Please inform us!