Commonwealth of Independent States
Wikipedia short information
The Commonwealth of Independent States (CIS), also called the Russian Commonwealth (to distinguish it from the English-speaking Commonwealth of Nations), is a loose confederation of 9 member states and 2 associate members that are located in Eurasia (primarily in Central to North Asia), formed during the dissolution of the Soviet Union, and which were all former Soviet Republics. Georgia withdrew its membership in 2008, while the Baltic states (Estonia, Latvia and Lithuania), which regard their membership in the Soviet Union as an illegal occupation, chose not to participate.
The CIS has few supranational powers but aims to be more than a purely symbolic organization, nominally possessing coordinating powers in the realms of trade, finance, lawmaking, and security. It has also promoted cooperation on cross-border crime prevention. Furthermore, eight of the nine CIS member states participate in the CIS Free Trade Area. Three organizations are under the overview of the CIS, namely the Collective Security Treaty Organization, the Eurasian Economic Union (alongside subdivisions, the Eurasian Customs Union and the Eurasian Economic Space, which comprises territory inhabited by over 180 million people), and the Union State. While the first and the second are military and economic alliances, the third aims to reach a supranational union of Russia and Belarus with a common government, flag, currency, etc.
Link: CIS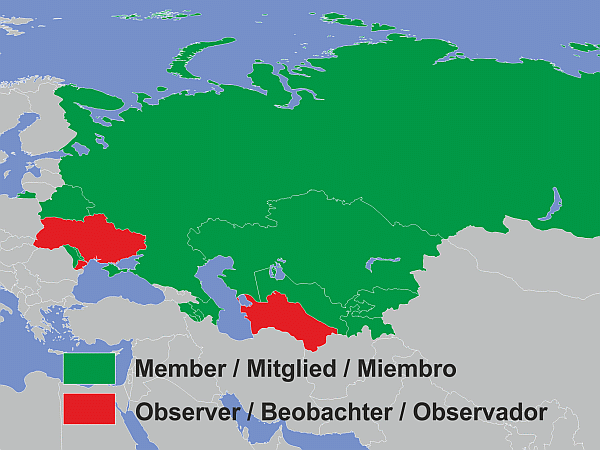 Members, Observers and other participations

Fast selection
List of international
organisations
and treaties
External links change quickly - If you get a link error - Please inform us!