Senkaku / Diaoyu Islands
| Capital | Currency | Government system |
| --- | --- | --- |
| None | Keine | Einparteiensystem |
| Official language | Region | Population |
| None | Far East | Estimation 2021 - 0 |
Country map - Administrative structure - Population density of Senkaku Islands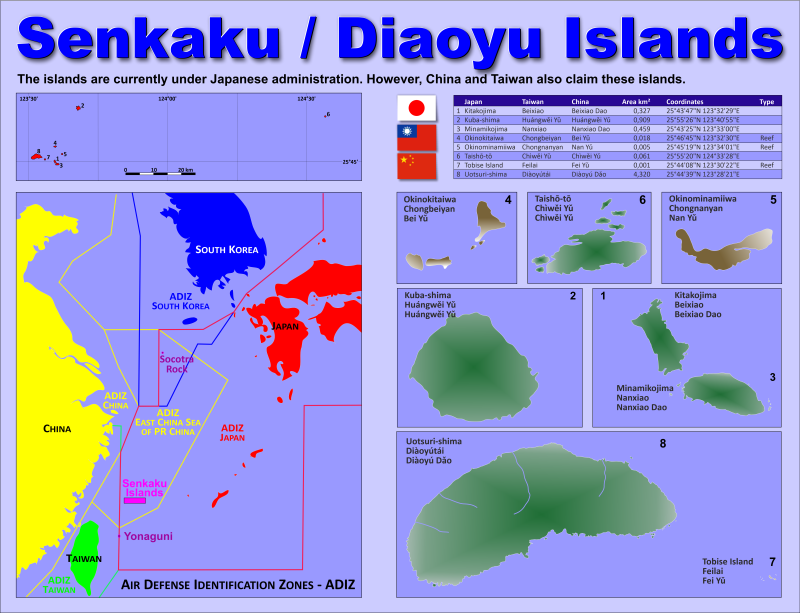 Senkaku Islands map - Click the map to get map as PDF file.
Other language versions are easy to generate, the descriptions are in own layers
Conditions for thematic maps with your own data and logotype
Delivery as printable file by e-mail or plot by post office


| | |
| --- | --- |
| Layers | |
| Provinces: | yes |
| Streets: | no |
| Infrastructure: | no |
| Rivers: | yes |

Size
Till A2
Delivery time
7 working days
Price
1 bis 3
60 €
> 3
On request


All information published herein is free usable quoting the source,
including the maps, if they are not modified
Statistical data - Population density according to the administrative structure
The islands are registered as uninhabited for 2021.
Click on the column header brings the table in order of the column header.
The default order is the island name.
Name of the islands in
Area
(km²)
Coordinates
Japón
Taiwan
China
Total
6,100
Last update: 30.03.2022 - 23:29:02
Kitakojima
Beixiao 
Beixiao Dao
0,327
25°43'47"N 123°32'29"E
Kuba-shima
Huángwei Yu
Huángwei Yu
0,909
25°55'26"N 123°40'55"E
Minamikojima
Nanxiao
Nanxiao Dao
0,459
25°43'25"N 123°33'00"E
Okinokitaiwa
Chongbeiyan
Bei Yu 
0,018
25°46'45"N 123°32'30"E
Okinominamiiwa
Chongnanyan
Nan Yu 
0,005
25°45'19"N 123°34'01"E
Taisho-to
Chìwei Yu
Chìwei Yu
0,061
25°55'20"N 124°33'28"E
Tobise Island
Feilai
Fei Yu
0,001
25°44'08"N 123°30'22"E
Uotsuri-shima
Diàoyútái
Diàoyú Dao
4,320
25°44'39"N 123°28'21"E
Existing thematic maps

News Covid-19

External links change quickly - If you get a link error - Please inform us!


Link colection Senkaku Islands



Country data

International Data

Special Data

See also neighboring states