Commonwealth of Puerto Rico
Capital
Currency
Government system
San Juan
US-Dollar (USD)
Dependent from USA
Official language
Region
Population
Spanish
English
Central America & Caribbean
Estimation 2021
3 193 694
Country map - Administrative structure - Population density of Puerto Rico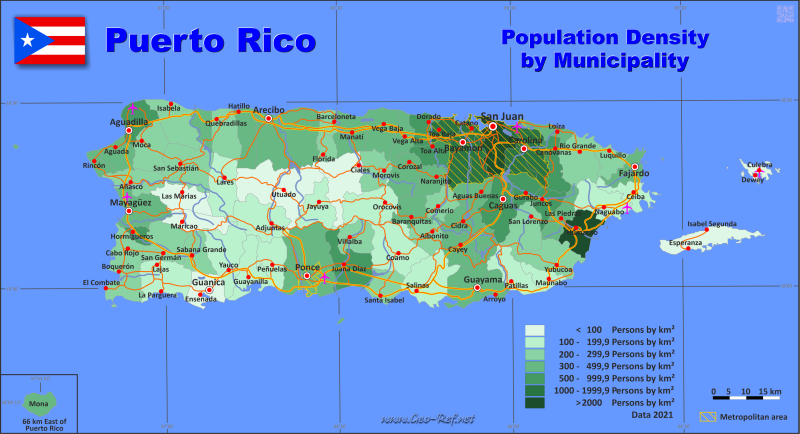 Puerto Rico map - Click the map to get map as PDF file.
Other language versions are easy to generate, the descriptions are in own layers
Conditions for thematic maps with your own data and logotype
Delivery as printable file by e-mail or plot by post office


| | |
| --- | --- |
| Layers | |
| Provinces: | yes |
| Streets: | yes |
| Infrastructure: | yes |
| Rivers: | yes |

Size
Till A2
Delivery time
7 working days
Price
1 bis 3
100 €
> 3
On request


All information published herein is free usable quoting the source,
including the maps, if they are not modified
Statistical data - Population density according to the administrative structure
The population data of the table below is an estimation form 2021, based on the census 2020.
For Puerto Rico is no ISO code assigned until now - instead of the ISO code is included the FIPS code in the table below. This code is usually used in the United States.
Click on the column header brings the table in order of the column header.
The default order is the municipality name.
Municipality
FIPS
Capital
Area
(km²)
Population
Density
(pers/km²)
Total
8 623
3 193 694
370,4
Last update: 11.08.2023 - 16:30:32
Adjuntas
001
Adjuntas
172,9
17 987
104,0
Aguada
003
Aguada
116,2
37 957
326,7
Aguadilla
005
Aguadilla
94,9
54 409
573,3
Aguas Buenas
007
Aguas Buenas
78,0
24 114
309,2
Aibonito
009
Aibonito
82,0
24 435
298,0
Añasco
011
Añasco
92,0
25 541
277,6
Arecibo
013
Arecibo
236,3
87 053
368,4
Arroyo
015
Arroyo
38,6
15 801
409,4
Barceloneta
017
Barceloneta
82,0
22 821
278,3
Barranquitas
019
Barranquitas
86,0
29 019
337,4
Bayamón
021
Bayamón
115,0
182 673
1 588,5
Cabo Rojo
023
Cabo Rojo
182,2
47 340
259,8
Caguas
025
Caguas
152,0
126 756
833,9
Camuy
027
Camuy
120,1
32 743
272,6
Canóvanas
029
Canóvanas
73,1
42 556
582,2
Carolina
031
Carolina
117,4
152 993
1 303,2
Cataño
033
Cataño
12,5
22 861
1 828,9
Cayey
035
Cayey
130,0
41 535
319,5
Ceiba
037
Ceiba
75,2
11 118
147,8
Ciales
039
Ciales
172,0
16 828
97,8
Cidra
041
Cidra
94,0
39 854
424,0
Coamo
043
Coamo
202,1
34 950
172,9
Comerío
045
Comerío
73,0
18 882
258,7
Corozal
047
Corozal
109,0
34 460
316,1
Culebra
049
Culebra
30,1
1 787
59,4
Dorado
051
Dorado
60,4
36 110
597,8
Fajardo
053
Fajardo
77,4
31 590
408,1
Florida
054
Florida
39,4
11 642
295,5
Guánica
055
Guánica
138,6
13 520
97,5
Guayama
057
Guayama
96,0
36 511
380,3
Guayanilla
059
Guayanilla
109,9
17 527
159,5
Guaynabo
061
Guaynabo
70,2
89 195
1 270,6
Gurabo
063
Gurabo
72,1
41 407
574,3
Hatillo
065
Hatillo
108,2
38 660
357,3
Hormigueros
067
Hormigueros
29,0
15 605
538,1
Humacao
069
Humacao
13,6
50 624
3 722,4
Isabela
071
Isabela
143,2
42 856
299,3
Jayuya
073
Jayuya
102,1
14 643
143,4
Juana Díaz
075
Juana Díaz
60,3
46 338
768,5
Juncos
077
Juncos
67,8
37 279
549,8
Lajas
079
Lajas
158,0
23 151
146,5
Lares
081
Lares
151,0
27 586
182,7
Las Marías
083
Las Marías
120,1
8 726
72,7
Las Piedras
085
Las Piedras
86,0
35 498
412,8
Loíza
087
Loíza
50,4
23 412
464,5
Luquillo
089
Luquillo
68,0
17 687
260,1
Manatí
091
Manatí
120,0
39 123
326,0
Maricao
093
Maricao
96,0
4 722
49,2
Maunabo
095
Maunabo
55,0
10 506
191,0
Mayagüez
097
Mayagüez
201,1
71 939
357,7
Moca
099
Moca
133,0
37 346
280,8
Morovis
101
Morovis
100,3
28 871
287,8
Naguabo
103
Naguabo
135,0
23 621
175,0
Naranjito
105
Naranjito
73,0
29 205
400,1
Orocovis
107
Orocovis
184,0
21 326
115,9
Patillas
109
Patillas
125,0
15 866
126,9
Peñuelas
111
Peñuelas
114,0
20 058
175,9
Ponce
113
Ponce
297,1
135 084
454,7
Quebradillas
115
Quebradillas
60,0
23 558
392,6
Rincón
117
Rincón
36,0
15 173
421,5
Río Grande
119
Río Grande
157,3
46 979
298,7
Sabana Grande
121
Sabana Grande
96,0
22 593
235,3
Salinas
123
Salinas
180,4
25 662
142,3
San Germán
125
San Germán
141,2
31 560
223,5
San Juan
127
San Juan
123,9
337 300
2 722,4
San Lorenzo
129
San Lorenzo
138,0
37 530
272,0
San Sebastián
131
San Sebastián
185,0
38 970
210,6
Santa Isabel
133
Santa Isabel
89,0
20 291
228,0
Toa Alta
135
Toa Alta
70,9
67 569
953,0
Toa Baja
137
Toa Baja
60,0
74 368
1 239,5
Trujillo Alto
139
Trujillo Alto
55,0
67 211
1 222,0
Utuado
141
Utuado
293,8
27 950
95,1
Vega Alta
143
Vega Alta
71,9
35 410
492,5
Vega Baja
145
Vega Baja
122,0
53 897
441,8
Vieques
147
Vieques
135,0
8 224
60,9
Villalba
149
Villalba
96,0
21 813
227,2
Yabucoa
151
Yabucoa
143,1
30 186
210,9
Yauco
153
Yauco
176,5
33 633
190,6
| | |
| --- | --- |
| Existing thematic maps | External links change quickly - If you get a link error - Please inform us! |
Membership in international organisations and treaties
Expand list

Regional Unions

Law enforcement

Technical alliances

Cultural Unions

| | |
| --- | --- |
| | If you have suggestions to include other information or you find missed links, please inform us! Click here ... |

See also neighboring states