Independent State of Papua New Guinea
Capital
Currency
Government system
Port Moresby
Kina (PGK)
Constitutional hereditary monarchy
Official language
Region
Population
Hiri Motu
Tok Pisin
English
Far East
2020 - 8 947 024
Country map - Administrative structure - Population density of Papua New Guinea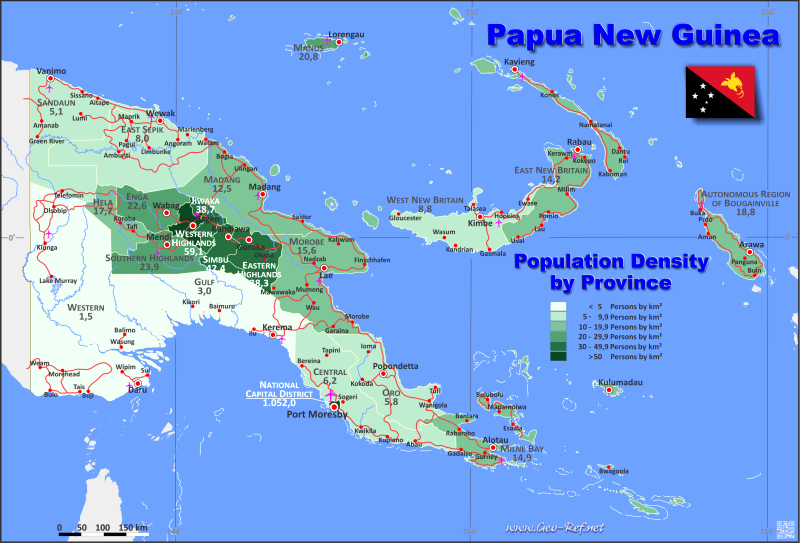 Papua New Guinea map - Click the map to get map as PDF file.
Other language versions are easy to generate, the descriptions are in own layers
Conditions for thematic maps with your own data and logotype
Delivery as printable file by e-mail or plot by post office


| | |
| --- | --- |
| Layers | |
| Provinces: | yes |
| Streets: | yes |
| Infrastructure: | yes |
| Rivers: | yes |

Size
Till A2
Delivery time
7 working days
Price
1 bis 3
75 €
> 3
On request


All information published herein is free usable quoting the source,
including the maps, if they are not modified
Statistical data - Population density according to the administrative structure
The population data of the table below is an estimation form 2012, last available data.
Click on the column header brings the table in order of the column header.
The default order is the province name.
Province
ISO
3166-2
Region
Capital
Area
(kmē)
Population
Density
(pers/kmē)
Total
465 240
5 166 233
216,24
Last update: 11.08.2023 - 16:30:32
Autonomous Region of Bougainville
PG-NSB
Islands
Arawa
9 300
175 053
18,8
Central
PG-CPM
Papua
Port Moresby
29 500
183 153
6,2
East New Britain
PG-EBR
Islands
Kokopo
15 500
220 035
14,2
East Sepik
PG-ESW
Momase
Wewak
42 800
341 583
8,0
Eastern Highlands
PG-EHG
Highlands
Goroka
11 200
429 480
38,3
Enga
PG-EPW
Highlands
Wabag
12 800
289 299
22,6
Gulf
PG-GPK
Papua
Kerema
34 500
105 050
3,0
Hela
PG-
Highlands
Tari
10 500
185 947
17,7
Jiwaka
PG-
Highlands
Minj
4 800
185 641
38,7
Madang
PG-MPM
Momase
Madang
29 000
362 085
12,5
Manus
PG-MRL
Islands
Lorengau
2 100
43 589
20,8
Milne Bay
PGMBA-
Papua
Alotau
14 000
209 054
14,9
Morobe
PG-MPL
Momase
Lae
34 500
536 917
15,6
National Capital District
PG-NCD
Papua
Port Moresby
240
252 469
1 052,0
New Ireland
PG-NIK
Islands
Kavieng
9 600
118 148
12,3
Oro (Northern)
PG-NPP
Papua
Popondetta
22 800
132 714
5,8
Sandaun (West Sepik)
PG-SAN
Momase
Vanimo
36 300
185 790
5,1
Simbu (Chimbu)
PG-CPK
Highlands
Kundiawa
6 100
258 776
42,4
Southern Highlands
PG-SHM
Highlands
Mendi
15 100
360 318
23,9
West New Britain
PG-WBK
Islands
Kimbe
21 000
184 838
8,8
Western (Fly)
PG-WPD
Papua
Daru
99 300
152 067
1,5
Western Highlands
PG-WHM
Highlands
Mount Hagen
4 300
254 227
59,1
| | |
| --- | --- |
| Existing thematic maps | External links change quickly - If you get a link error - Please inform us! |
Membership in international organisations and treaties
Expand list

Political Alliances

Regional Unions

Military alliances/Arms control

Law enforcement

Business Alliances

Fishery

Financial

Free Trade Area, Internal Market

Technical alliances

Environment

Transport

Cientific

Humanitarian Unions

Cultural Unions

| | |
| --- | --- |
| | If you have suggestions to include other information or you find missed links, please inform us! Click here ... |

See also neighboring states